Kayaking is a great way to access the beautiful archipelago of Eastern Helsinki! In summer the days are long and there is plenty of light to paddle throughout the day. Beginners and experts can rent a kayak from us and find a suitable route to paddle. The Baltic Sea tends to offer good paddling conditions also for beginners. In the area there are several recreational islands, on which you are allowed to go ashore. Some of these islands even allow camping.
We also rent fat bikes, canoes and SUP boards.
Opening hours
May:
Mon-Fri 14 -20
Sat, Sun 10 -20
June, July and August:
Every day 10 – 22
September:
Mon-Fri 14 -20
Sat, Sun 10 -20
Price list
The rentals include the following:
Kayak: kayak, spray skirt, paddle and personal flotation device (pfd)
Open canoe: canoe, canoe paddles, pfd and bailer
SUP: SUP board, paddle, leash ja pfd
Rowing boat: rowing boat, oars, pfd and bailer
Fatbike: fatbike and helmet
Payment options
The reservation can be paid conveniently online or at the paddling center. At the paddling center we accept cash, debit and credit cards (Visa, MasterCard, Visa Electron).  If you have employee benefits from a Finnish company, we accept the following: Smartum, Edenred (Ticket), SporttiPassi, Tyky, Eazy break and Benifyn.
Reservations
You can make your reservation online. We rent kayaks, canoes, stand up paddleboards, fat bikes and a rowing boat. Please begin by choosing the product/model you wish to rent and the rental time. You can add several kayaks, canoes, SUP boards, etc. to your reservation. You can pay your reservation conveniently online or at our paddling center.
Longer, over 24h, rentals can be booked through our office. Please contact us at info@naturaviva.fi or call +358102924030. We will gladly help you also if you have trouble making shorter reservations.
Standard kayaks
Standard kayaks are easy and stable. They are suitable for beginners. All the kayaks in our fleet have waterproof hatches and space for your gear. With a standard kayak, you can also go on an overnight tour. If you want to try kayaking for the first time, we recommend a standard kayak.
Rainbow Oasis
22 €
Touring and Sea Kayaks
There are touring and sea kayaks of different shapes and sizes in our rental fleet. Some of these kayaks are still easy and stable, but allow more adjustments and have a more comfortable seat than the standard kayak. This category also includes kayaks, which are more suitable for longer tours. Some of these models have a skeg, which when used correctly helps control the kayak in windy conditions.
North Shore Atlantic
27 €
North Shore Atlantic LV
27 €
Riot Britanny 16
27 €
Wilderness Systems Tsunami 135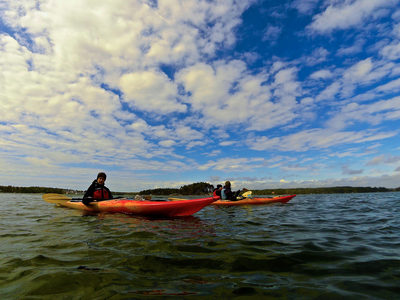 27 €
Valley Etain 17.7 RM
27 €
Valley Etain 17.5 RM
27 €
Valley Sirona 15.11 RM
27 €
Valley Sirona 16.1 RM
27 €
Wilderness Systems Zephyr 160
27 €
Wilderness Systems Tsunami 145
27 €
Wilderness Systems Tsunami 140
27 €
Wilderness Systems Zephyr 155
27 €
Wilderness Systems Tempest 165
27 €
Wilderness Systems Tempest 170
27 €
Sea Kayaks Advanced
These sea kayaks are designed for longer expeditions and more demanding conditions. They have more storage space and are longer and more narrow. All of the models have a rudder. We only recommend these models for experienced kayakers.
Prijon Seayak 500 LV
32 €
Prijon Seayak 520 HV
32 €
Prijon Touryak 500
32 €
Double Kayaks Standard
Just like the standard single kayak, the doubles are stable and very easy for beginners. They are even wider and easier than single kayaks.
Of course for a double kayak you need two people and the ability to work together. With two people paddling the double kayaks are usually also a bit faster.
Rainbow Oasis Twin
40 €
Double Kayaks Sea
These double kayaks are designed for longer trips. They have more space for your gear than the standard doubles. They also have a rudder for easier control in windy conditions. Going on your first overnight trip the double kayak is a safe option. It is faster and very stable.
Boreal Design Esperanto
47 €
Prijon Poseidon
47 €
Open Canoe
The open canoe is most suitable for river trips and sheltered water. On the sea we recommend it only on the calm days, since the open canoe is hard to handle in windy conditions. On windy days we suggest you choose a kayak for your paddling trip. Open canoes are paddled with a single-blade paddle and they have a lot of room for your gear.
Mad River Journey 167
30 €
Mad River Journey 156
30 €
SUP-boards
Stand Up Paddling is a fun activity! Rent a board and explore the beauty of the Helsinki archipelago. We have quality gear to make your experience great!
Fanatic FLY Soft top SUP board Small
20 €
Fanatic FLY Soft top SUP board Large
20 €
Fatbikes
Riding a Fatbike makes cycling fun! The big tyres make it easy to drive on dirt roads and single tracks along the coast of the Gulf of Finland! Try it out!
Mad Croc single-speed Fatbike
10 €
Rowing boat
A tour in the Helsinki archipelago is an unique experience with a rowing boat. Enjoy the Finnish summer in a traditional way. Oars in the water and let's go!
TERHI 375 soutuvene
20 €
Series cards and season passes
For the avid paddler, the right card or pass will make kayaking cheap and easy! You can choose a personal card or one of our family or corporate cards. Buy your card online!
Season pass (1 person)
300 €
Monthly pass
150 €
10x 2h paddling -card
150 €
10x 2h paddling -card (Family/ Company)
190 €
Season pass (Family/ Company)
490 €
All inclusive - card
590 €
Paddling routes
There is an endless amount of superb paddling routes starting from our the Vuosaari Paddling Center. The Gulf of Finland is one of the best paddling locations in the world and the routes start just outside the city center of Helsinki. Kayaking here is fun and relaxing. To everyone renting kayaks from us, we will give you a map of the area and suggest the best routes. There are numerous islands to stop at and have a break.
For those wanting to stay overnight on the islands, we offer self-guided paddling trips where we provide you with all the camping equipment. For planning multi-day self-guided kayaking trips, you may find the Helsinki-Porvoo Sea Kayaking route map helpful. We are also happy to give you advice about routes!
How to get to Vuosaari Paddling Center
Our address is: Vuosaari Paddling Center, Harbonkatu 13, FIN-00980 HELSINKI. Vuosaari Paddling Center is located in the Vuosaari district of Helsinki, 15 km's from the centre of Helsinki and the Helsinki-Vantaa airport.
Public transportation
You can use the Trip Planner to check the best public transportation routes. There is a metro from the city centre to Rastila metro station. From Rastila metro station there is a bus connection towards Harbonkatu about every 10 minutes (bus nro. 560). The bus stop is in the crossing of Meri-Rastilantie and Harbonkatu roads. The paddling center is at the end of the Harbonkatu -road by the sea. It is about 450 meters from the bus stop to the paddling center.
Arriving with your own car
From Itäkeskus shopping centre drive along the Meripellontie -road towards Vuosaari. Right after the Vuosaari bridge take the exit to Rastila. From the exit turn right to Meri-Rastilantie. Drive about 1000 meters until you turn right again at Harbonkatu. Follow Harbonkatu for about 450 meters until you reach the end of the road. You will find 4 hour parking places along the road.

Used kayaks and canoes
Used Wilderness Systems Tsunami 135
650 €
Used Wilderness Systems Zephyr 160
850 €
Used Rainbow Oasis Twin
690 €
Used Wilderness Systems Tsunami 145
650 €
Used Rainbow Oasis 4.30
499 €
Used Wilderness Systems Zephyr 155
850 €
Used Wilderness Systems Tempest 165
890 €
Contact us!