Kayaking is a great way to relax and work together as a group. We organize over 100 kayak events for our corporate customers and other groups. Our paddling center is located in Vuosaari, Eastern Helsinki. This is where the best paddling waters of Helsinki are also situated. We can also take our kayaks to any other suitable location in Southern Finland. Our seasoned guides take care of your safety and make sure everyone is having a good time! Kayaking is a great option for beginners and experts alike.
Our aim is to boost the well-being of your group and at the same time have a fun and enjoyable experience in the beautiful Finnish nature. Apart from sea kayaking we also offer Stand Up Paddle Boarding, Fatbike tours and wildherb courses. We can also combine all the activities and offer a great day to a bigger group. After or before your activity you can rent our tent right by the sea. It is a great place to have a meeting or enjoy a nice meal. We have cold and warm dishes and drinks for you to enjoy.
Kayak tours from Vuosaari Paddling Center
Clear waters, sandy beaches and numerous islands, that's what kayaking in Eastern Helsinki is all about. Join us on a tour to the best paddling waters in Helsinki!
Kayak + Fatbike Tour
79 €
Kayak + SUP Tour
55 €
Kayaking in the Archipelago
48 €
Kayaking Tour (incl. snack break on island)
65 €
Kayaking to the Vartiosaari Nature Trail
98 €
Stand Up Paddling Tour
65 €
Kayaking Tour and Picnic in the Archipelago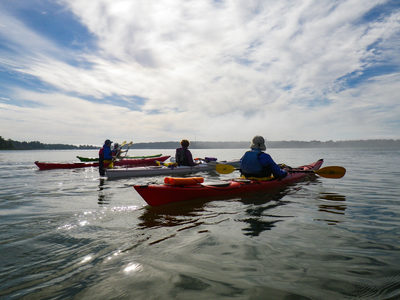 83 €
Kayak fishing tour in Vuosaari
121 €
Other activities at Vuosaari Paddling Center
Get in the nature on our Fatbike tour or get to know all the wild herbs on out Wild Herb course. Try these out!
Wild Herbs and Vegetables
44 €
Fatbike Tour in Vuosaari
50 €
Cafe Natura group menus and tent by the sea
The best ending for an active day of outdoor activities is a tasty meal right on the sea shore. You can reserve our tent after your nature excursion. There is space for 12 – 15 people. We are equipped for meetings too! Check out or group menus here!
Kayak tours in other destinations
We organize kayak tours for groups also in other locations in Southern Finland. We would love to recommend good places!
Bachelorette and bachelor parties
If you want to do something active on the special day, why not go kayaking! Or if you are more in to adventure, we also offer whitewater kayaking and whitewater rafting in Kymijoku about 150 kilometres from Helsinki. An option all-year round is fatbiking!
Kayak polo
48 €
Kayaking in the Archipelago
48 €
Contact us!